The Portland Country Club is a private, member owned country club, located in Falmouth Foreside, Maine.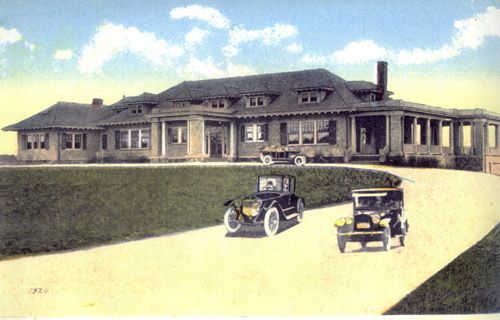 Established in 1895 by a small group of golf enthusiasts headed by Rev. Dean Charles M. Sills, it is the oldest organized golf club in Southern Maine. The Portland Country Club celebrates a deep tradition in member service and an unwavering commitment to the game of golf.
Originally known as the Portland Golf Club, the members spent the first twenty years on the grounds of Fort Preble, and then in Thornton Heights. Annual dues were $2.00. After acquiring the current Oceanside property in Falmouth Foreside, the new Clubhouse opened to members on December 10, 1914.
In 1921, the Club sought out course architect Donald Ross (pictured to the left) to design the timeless 18-hole course members enjoy to this day. The stunningly beautiful course is nationally renowned, enjoyable to play, easily walked, and filled with Donald Ross characteristics such as risk/reward, deceiving greens, and a visionary integration with the natural surroundings.
PCC was the first private golf course in Maine to be designated as a "Certified Audubon Cooperative Sanctuary" by Audubon International.
Today, PCC boasts an active and caring membership that takes great interest in our Club, our community, and in one another. We are proud of our history, seek to honor the traditions of the game of golf, and work hard to offer members and guests the best in service, amenities and camaraderie.